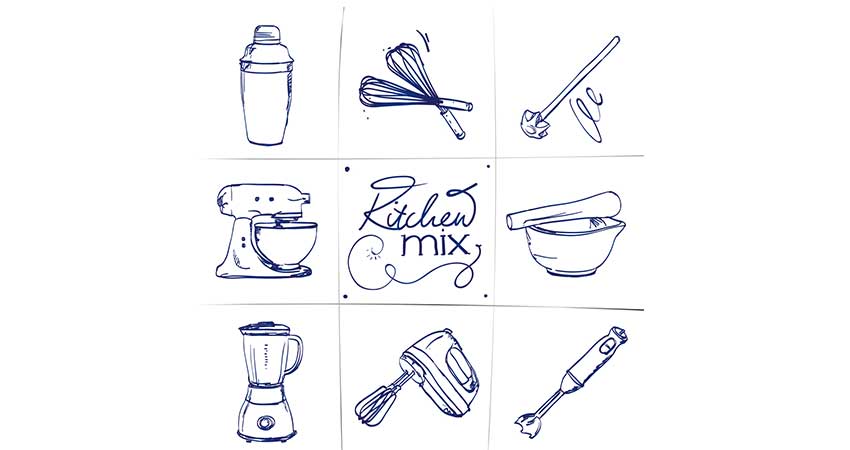 Hand Mixer Analysis – Should You Have it Or Not
Every modern-day housewife and chef must be familiar with the electric hand mixer and its effectiveness in kitchen work. It really get things done on time, doesn't it?
Hand mixers are lightweight and small devices that take care of your everyday mixing and beating needs. Some latest devices also feature whisks for creams, cake mixtures, cookie dough, egg yolk and more!
You have plenty of affordable and efficient hand mixer options to choose from, such as:
Overview
There are quite a few advantages of hand mixers. At the same time there are few demerits as well. In this post, we are going to compare the benefits and demerits of electric hand mixer, and conclude whether you should purchase it, or look for a better mixing device.
It's the fact, hand mixers are not as powerful as stand-mixers. Even the best hand mixer cannot compete with the stand mixer when it comes to the powerful motor. This may be a limitation, but again, you need to see whether you need that much power or not.
On the other hand, hand held mixers offer multiple-speed options for mixing and beating different ingredients properly. Most of the models offer three low speeds to make sure ingredients get mixed without spattering. With multiple speeds, a hand mixer can mix almost any ingredient, from biscuits to the hardest homemade doughs. Some devices can even beat bakery doughs.
Durability is an important concern when it comes to hand mixers. They have a light weight and can work with brisk pace. Therefore, a person not holding a hand mixer properly may end up dropping it on the floor or knocking off the counter.
It isn't entirely the fault of the device if one doesn't know how to hold it properly. That's where design comes in handy. If your hand mixer has a slanted handle, you can get a good grip and don't have to apply too much force to manage its speed.
Although electric hand mixers are less durable than stand-mixers, look at the price range of Hamilton Beach 62682RZ Hand Mixer. Would you need a durable stand-mixer if you're getting a hand mixer so cheap?
Some Common Concerns
Moving on to some common concerns from Stand-mixer fans, let's practically analyze whether they are valid or not.
Hand mixer requires your physical presence. You are required to hold it until you mix all the ingredients. But, to mix all the ingredients properly, anyone could spare a few minutes. If you're really in a hurry, you can simply increase the mixing speed and get the work done quickly.
Lack of multi-tasking is another popular point people use to raise. How much exactly can you multi-task in a minute or two? This is something to think about. Even professional cooks occupied with running orders, use hand mixers during high-loads.
Lack of accessories is another concern. If you have this concern, there are some hand mixers that feature additional accessories, such as dough hooks, stainless steel beaters and whisks, and storage bowl.
Benefits Only Hand Mixer Can Give
Now, let's discover some advantages that you can only get from a hand mixer.
1.Detailed mixing: Hand mixers are best in mixing ingredients much better than stand-mixers. They allow you to hold and move the device and their rounded finish can help you reach the deep inside the ingredients. This attribute is directly associated with the quality of food. Stand-mixers, on the other hand, have standard bowl and accessories that cannot give such in-depth mixing.
2. Less Space: Hand mixers, because of their small size and sleek design, are preferred in compact kitchens where stand-mixers cannot fit. Just take out the device, use it, then store it away in a safe location.
3. Quick-Speed Feature: If you're running out of time, simply press a QuickBurst button and the mixer will switch from the lowest to the highest speed, and mix your ingredients quickly.
Conclusion
Hand mixers are effective, effective, and must-have appliances for all kinds of kitchens. Now, that you're well aware of their capabilities, you can choose to buy an electric hand mixer for your kitchen.