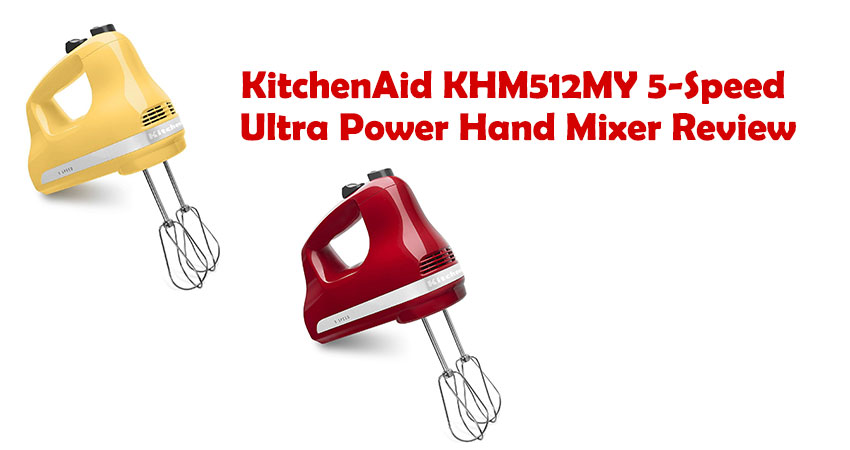 KitchenAid KHM512MY 5-Speed Ultra Power Hand Mixer Review
Are you a serious home chef looking for a flexible hand mixer that will able to meet all the demands of your mixing needs? Do you want a product that will allow you to swiftly and effectively create and then tidy up afterwards? With the KitchenAid KHM512MY 5-speed Ultra Power Hand Mixer, you're going to end up buying one of the best budget-friendly hand mixers on the market as of today. Weighing just around 2 lbs and having the best features of a hand mixer.
If you want to know more information about the product, you can read official information about it below, including its features, benefits, advantages and disadvantages, our own customer review and even the installation process.
Main Features of the KitchenAid KHM512MY
It will give you the capability to mix ingredients on varieties of speed which is one of the most important feature a hand mixer should have. A feature that can be controlled by just one touch can mix ingredients from a slow stir to a higher whip.
Levels 1 and 2 are suitable for slow stirring in the chunky ingredients such as chips and nuts. Level 3 is equivalent to a medium speed good for whipping egg whites or cream.
Lastly, levels 4 and 5 is great for achieving a smooth texture for your doughs. An added feature of it is a quiet but powerful DC motor.
To avoid splattering the ingredients from the mixing bowl, the beatles start with a soft speed before operating on a constant level of the user's choice.
To allow the user to approach the ingredients at any angle and avoid tangles, they added the lockable swivel cord which can be secured either the left or right side of the hand mixer.
Because of the product's quality and durable material, its smoothness makes it easy to wipe clean without creating any mess. The swivel cord can also be easily wiped with just a damp cloth.
With this button, the user can easily and quickly remove the accessories (Stainless Turbo Beater ™ II) from the hand mixer. Just press the button once and pull out the accessory from the product.
To increase the user's comfortability and performance while using the product, they added a unique feature by designing it with a comfort-designed handle. This feature is added to eliminate fatigue during long and hard mixing procedures. The controls' locations are convenient without the need to switch hands.
Stainless Steel Turbo Beater II Accessories
The dishwasher-safe Turbo Beater II Accessories made from the U.S. are a great addition to the product which are suitable for mixing heavy ingredients such as cream, dough and a cake mix. These turbo-powered beaters are durable and made from stainless steel.
Benefits of KitchenAid 5-Speed Ultra Power Hand Mixer
A 5 ultra-powered hand mixer that provides 5 speed levels for mixing varieties of and baking ingredients without any hassle. It gets everything easily done without using your hands alone for mixing.
Multiple tasks can be done in a short amount of time.
The hand mixer is easy to use for light-duty mixing.
Aside from the baking ingredients, you can also use it for mixing and cooking ingredients for dishes like soups and meat balls.
Compared to stand mixers and other hand mixers, the KitchenAid 5-Speed Ultra Power hand mixer doesn't empty your pocket or require large storage space.
Pros
Several types of recipes can be mixed with the speed control
The noiseless turbo-powered motors allow high performance
Comfortable handle
Very easy to clean
It's budget friendly and comes with a 1-year warranty
Cons
KitchenAid offers products with more speed levels: 6, 7 and 9.
The variation may not be distinct from other users.
Flat beater is not included.
Customer Reviews
I wanted to try cooking and baking so I bought cooking and baking materials until I realized I need my own electric hand mixer. I've researched a lot of products online and found the KitchenAid KHM512MY 5-Speed Ultra Power Hand Mixer.
Because of its helpful and positive review, I decided to buy one for myself. I was quite skeptical when I saw that it was low price, but it's a great price for starts like me. Since I had the product, I was already able to bake different types of cookies, cake and many more, with no hassle at all.
Despite of being used constantly, the product stays durable and working until today. The 5 levels still work at noticeably different speeds and the product still mixes without unnecessary noises from the motor. I'd recommend it to my friends who likes baking as well. With this hand mixer, I was able to learn and try different cooking recipes for my family, friends and my own pleasure!
Although, it does have some setbacks. The 5-speed mixer is outdone by models with more speed levels. I also think they should include accessories to the product. However, despite of its 1-year warranty, it would be nice if it lasts more than that.
Installation of Accessories
Before anything else, the mixer SHOULDN'T be plugged. Start by inserting the accessory shaft with the collar through the large opening of the mixer. The flanges on the shaft SHOULD BE aligned to the opening's slots. Push the lock to secure it. You can also install the accessory by inserting it without a collar through the smaller opening. It SHOULD BE aligned and pushed to secure.
Safety Precautions
Read ALL instructions in the manual provided.
To prevent electrical shock and other risks, AVOID placing the product in any forms of liquid.
DO supervise if the product is being used near or by children.
DO unplug it every time it's not in use, being cleaned or dissembled.
DO remove the accessories before washing.
DO NOT operate the product with faulty parts or accessories.
DO NOT use parts or accessories not recommended by the manufacturer.
AVOID using the mixer outdoors.
AVOID the cord hanging over the edge of the table or counter.
AVOID the cord from contacting hot surfaces such as the stove.
Conclusion
We've already given you a complete review of all the information you should know about the KitchenAid KHM512MY 5-speed Ultra Power hand mixer. If you're seeking for the best budget-friendly hand mixer, we recommend you to purchase the KitchenAid KHM512MY. With its unique features, benefits and advantages mentioned above, you will surely have the best cooking and baking experience of your life!