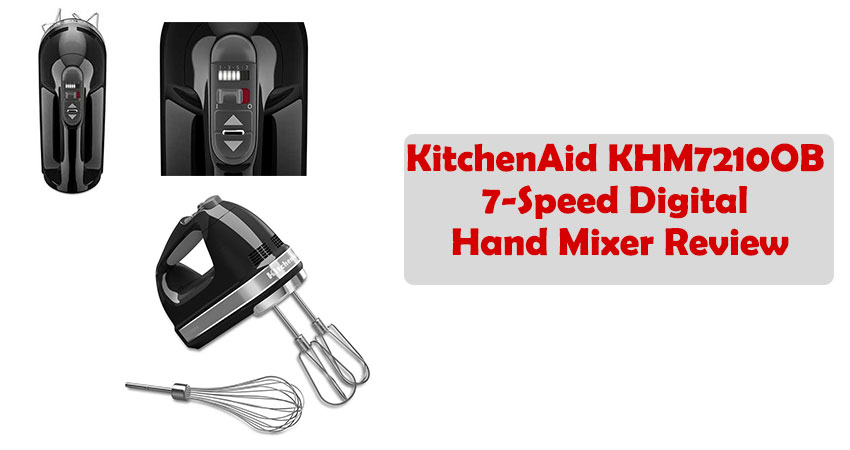 KitchenAid KHM7210OB 7-Speed Digital Hand Mixer Review
KitchenAid-KHM926CA-9-Speed-Digital-Hand-MixerYou already know why hand mixers are use. They are lighter in weight, occupy lesser space, and offer detailed mixing compared to stand-mixers.
While there are quite a few hand mixer brands, but KitchenAid is the most trusted one in the market.
Why Choose KitchenAid Hand Mixer?
With lots of hand mixer options in terms of price, performance and functionality, this brand has a wider share in the market today. You can choose from a wide range of hand mixers, from 3-speed to 9-speed, if you're looking for top of the line electric hand mixers. KitchenAid KHM7210OB 7-Speed Digital Hand Mixer is one of the models that has been living up to its reputation
KitchenAid KHM7210OB 7-Speed Digital Hand Mixer Review– What's in it?
This particular model offers speed, safety and multiple functionality that others may find hard to match. Here's a quick look at KitchenAid 7-Speed Electric Hand Mixer.
Quick Glance at Key Specs
7 speeds
Soft Start feature
Lockable swivel cord for refined mixing,
Single-press ejection button for accessories.
Turbo Beater II made of stainless steel
Digital controls
Polycarbonate material
Dimensions: 3.5 inch x 8-inch x 6-inch
Available colors: black, white, onyx black, contour silver and empire red
Pros
Offers variable speed with a soft and safe start. Normally a hand mixer with 5 speeds is considered good. So it's much better and offers better control.
Variable speed helps in handling heavy mixtures, such as homemade dough and becking soda. KitchenAid KHM7210OB 7-Speed Digital Hand Mixer can handle heavy mixtures very well.
Shape and design are much better than other models, offering deeper reach and multiple angles for mixing ingredients.
The single-handed press allows removal of accessories, saving your mixing, cleaning and storing time.
Cons
Motor consumes 150 watts so, it may not match the effectiveness of stand-mixer for heavy jobs.
Speed is less than stand mixer
Missing accessories, such as dough hooks, blending rod and storage bag
Design and Features
While KitchenAid KHM7210OB 7-Speed Digital Hand Mixer features a polycarbonate plastic body, unlike usual die-cast metal, you may not identify this change from the first look. But plastic material is a good change, since the hand mixer has now gotten, approximately 1kg lighter.
The soft grip makes the hand mixer feel comfortable, so you can use it to good effect. You can see the on/off switch as well as speed control buttons right on top of the hand mixer, which means, you can use it with one hand. Just move your thumb and turn it on without putting it on the counter.
You'll like its sleek and compact shape that features an angled heel at the back and air vents near the buttons, at the front. Plus, the cord can be swiveled, giving you more variation to reach and mix the ingredients.
If anything that makes this hand mixer stand out, that would be the accessories. The stainless steel beaters can take care of heavy mixing, except bread dough. Then there is a whisk made with 16 stainless steel wires, to add more fluff into whipping. Finally, there is an ejection button for quick removal of accessories.
The powerful DC motor operates at 150 watts and works quietly. It gets heated up though, after prolonged use. The only downside is, KitchenAid 7-Speed Hand Mixer doesn't have blending rod and dough hooks. Moreover, you need to buy a case separately, to put all the accessories in one place.
What Benefits You'll Get?
1. It's Quick: KitchenAid KHM7210OB 7-Speed Digital Hand Mixer is a ready-to-use appliance – just fit the accessory and get to work. Plus, it's one-press release button saves you from removing the accessories manually.
2. Ease of Use: With the help of speed-control buttons, you can increase and decrease the speed with a single hand. The indicator will keep you updated about the speed level you're on.
3. Versatility: While 3 speeds are considered below average for modern-day kitchen needs, 5 would be acceptable, you get a 7-speed hand mixer that can take care of most mixing, beating and smashing tasks. For example;
All the ingredients are combined slowly at speed 1
You can prepare a homemade dough bread between speeds 2 and 3
You can mash potatoes and make cookie dough on speed 4
Speed 7 is for whipping meringue or beating egg whites.
4. Safe mixing: Switch on the hand mixer and it will start operating at the lowest speed. This speed prevents splashing and splattering of flour.
5. Warranty: You can verify and request for manufacturer's warranty online.
Customer Reviews
By and large, customers look more than satisfied with KitchenAid 7-Speed Hand Mixer. Most of the online customers have been using hand mixtures for years, and have replaced old mixers with this particular model.
While some of them felt disappointed with the power and price, others say they liked its quitter motor, light weight and efficiency.
A customer mentioned highly of the hand mixer's powerful motor, said he was able to make a cake frosting. He did complain about two separate buttons, on/off and speed control, but he also mentioned he would get used to it with time.
In general, customers like what KitchenAid 7 Speed hand mixer has on offer, in terms of price, value, efficiency and looks. But, it cannot be compared with 9 speed hand mixer of the same brand.
Should You Buy This Hand Mixer?
The 7- speed hand mixer suits compact to small kitchens where stand-mixers cannot adjust. It may not be as powerful as stand-mixer, but it can perform most of the tasks that are attributed to stand mixers only. Keen cooks will find it a handy appliance, going parallel with the main appliance, and save their time in the kitchen.
Final Verdict
KitchenAid KHM7210OB 7-Speed Digital Hand Mixer offers better control, quite performance and efficiency. You may want to compromise over cost, if you consider with ergonomic design, multiple functions and durability of this hand mixer. All in all a product is worth a recommendation, as majority of customers have rated it so high.