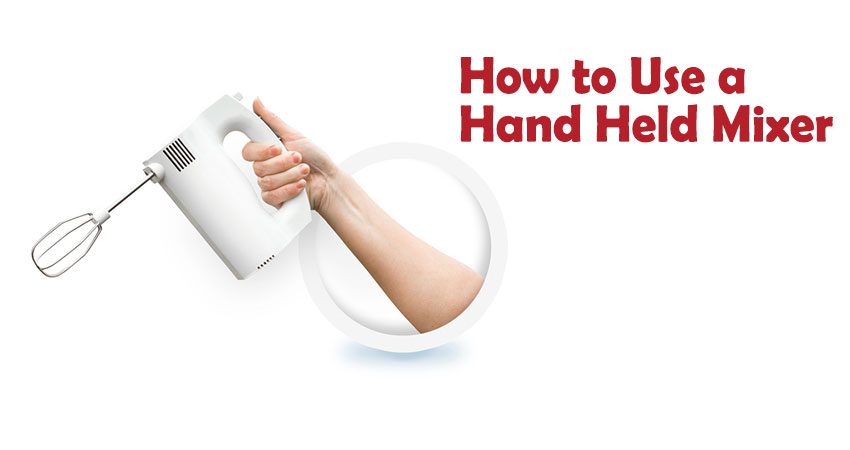 How to Use a Hand Held Mixer – in The Best Way
A hand-held mixer offers many benefits that you cannot get from an ordinary mixer. Some of the major advantages of hand mixers over stand mixers include:
Energy-saving, due to the use of less power
Ease-of-cleaning
Fairly low maintenance
In this post, you are going to learn how you can use your hand mixer with maximum safety and efficiency.
How to Use a Hand Held Mixer – With Safety & Efficiency
Hand Mixer Safety Tips
While learning about any electronic product, it's better to start with safety rules. Go through the following safety Tips:
1. Read Instructions
Manufacturer's manual offers a great deal of information about the hand mixer you bought. The manual may be long, but it is worth your attention before you take the device in your hand.
Although, the basic working and methodology remains the same for all hand held mixers, yet each electronic device has something different. You can go through manufacturer's instructions. In case, if the manual is not available, you can visit the manufacturer's website, search the manual for the product and download it for reading later.
2. Keep Important Accessories Safe from Water
Electronic machines should be kept away from water, otherwise they might turn into nightmares. Same is true for hand mixers. Following items should not touch the water:
Plugs,
Machine cords,
External surface (handle and motor housing).
Water can easily reach through the small openings and corrupt the motor. Even the best hand mixer can tumble if it happens.
3. Avoid Moving Unnecessarily
In order to preserve your hand mixer and use it for a longer period, do not move it in the bowl too much. Try to keep the accessories in fixed spots in order to reduce the risk of damage.
4. Store it in A Safe Place after Use
Hand mixers should be used sparingly, especially when you have kids in your house. Keep your hand mixer at a safe distance from kids and pets. Since, they are lightweight, have less durable body and stainless steel accessories, they can be damaged or cause injuries to kids playing with them.
Understand Your Hand Mixer
1. Hand Mixer Parts
There are four main parts of a hand mixer. These include:
Power burst
On/off button
Bowl rest button, and
Mixer body button
With electronic mixers and latest models around, they may have some more features, but the basic parts remain the same for all hand mixers. Moreover, hand mixers have no separate button to attach accessories.
2. Take a Look at Attachments
Depending upon the model and make, your hand held mixer may have these attachments:
Flat beaters
Twisted wire beaters
Straight wire beaters,
Single whisks, and
Dough hooks
While some of the accessories come for free, others may be bought separately.
3. Be Careful with Bowl Rest Option
Bowl-rest option is something you should not use, while the mixer was working. Using this option without caution may damage your mixer.
4. Case for Storage
Best hand mixer brands also offer storage case to put all the accessories in one place. After using your device, clean all the components as well as attachments before storing them away.
7 Steps to How to Use a Hand Held Mixer
Step 1: While attaching Accessories
Before attaching the beaters (or other accessories), make sure your hand mixer was unplugged. Also check for the speed which must be set at 0 (zero).
Step 2: Placing the beater into the bowl
Do not turn your mixer on unless the beaters are inside the bowl and ready to mix. This is to avoid any unforeseen accident (improper attachment can detach the beaters as they rotate at high speed).
Step 3: Increase the speed slowly
While you can always use speed burst option to speed up mixing process, it is advisable to start with 1, then gradually increase the speed to desired level.
Step 4: Bring it Down
Make sure to reduce the speed to 0, after you have finished mixing. Do not unplug until the speed comes down to 0.
Step 5: Unplug Safely Before Ejecting the Beater
Different hand mixers follow different ejection procedures. If you've already read the manual, you'd the method. Anyhow, don't take chances with a plugged mixer.
Step 6: Clean It Before Storing it Away
First, clean the attachments using hot soapy water
Wipe the body of the mixer using a wet cloth
Step 7: Allow it to Dry
Let the moisture escape, so that it will not harm the body and attachments. Properly seal the items in a case and store them in a safe place.